Dukan Diet Home
* Shed Pounds on
THE Most Successful Diet in France
* More Effective Than Even the Atkin's Diet and Healthier!
* Eat Delicious Food and Keep the Weight Off FOREVER!
* Lose Weight Fast the Celebrity Way Like Jennifer Lopez and Supermodel Gisele
* Get the Body You've Always Dreamed of With This Doctor Created, Doctor Tested Approach to FAST Long Term Weight Loss!
Dukan Diet – The Sensational French Diet developed by Pierre Dukan

Have you heard of the Dukan Diet? If you are looking for the ultimate weight loss plan to lose pounds fast and keep the weight off, check out this diet. The best place to start is with the Dukan Diet Book
and the Dukan Diet Recipe Book – a full cookbook to help you get slim on the diet with delicious recipes.
Created by French doctor Pierre Dukan, this diet is creating quite a stir in the UK and now in the United States but it has been popular in France for years and was only recently released outside of France. You can order the book here
or at the end of this page.
Pierre Dukan's diet is very easy to follow. The Dukan diet is divided into four phases:
Attack phase
Cruise phase
Consolidation phase
Stabilization phase
The Dukan Diet isn't about counting calories, but about which foods you eat and when. The diet is requires discipline and you have to stick with the program but if you do, you can lose weight fast. The Dukan Diet is also a plan developed to be maintained for life. Dukan focuses a lot of attention on maintenance and keeping the weight off with a specific strategy for the period when most people flail and gain back weight they've lost. If you need to lose weight fast, you must consider the Dukan diet.
In the long term, the Dukan Diet allows you to indulge in foods you love but has one major catch. One day each week, (Dr. Pierre Dukan designates Thursdays) – you can eat only protein. When you want to lose weight fast and keep it off, this seems like a small catch.
During the first phase of the Dukan Diet, the "attack", you eat only protein.  This is nothing new. The emphasis on protein seems similar to the Atkin's diet. However, unlike the famed Atkin's diet, this isn't protein with cheese, cream, butter and as much fat as desired. Dukan requires that fat be trimmed off the meat, skin removed from the chicken – and cream, butter and extra fats are to be avoided. The focus is on lean protein only. This first attack phase of the diet is carried on for anywhere from one to ten days, depending on how much weight you want to lose. If you want to lose more weight fast, you spend more time in this phase of the diet.
Here is a breakdown of what you can and cannot eat during the attack phase:
Lean beef, veal, chicken liver or rabbit with fat trimmed. Avoid ribs as they are too fatty. All of these must be broiled, grilled or roasted. No butter, cream or oil – no low-fat versions either. You can use lean ground beef to make burgers or meatballs – mixed with capers, an egg or spices – no breadcrumbs!
Ham is okay if it is low fat and lean with the rind cut off – avoid smoked, deli or cured hams
Avoid pork or lamb
All shellfish is okay


All fish including crab legs are fine unless it is in oil or sauce that has fat
Up to two eggs per day – stick to 3 or 4 yolks per week if cholesterol is an issue for you but unlimited Egg Whites are okay
Non-fat dairy products such as cottage cheese, skim milk, no-fat yogurt in natural, vanilla or lemon flavors are okay. Avoid yogurts or cottage cheese with fruit purees for faster and better results
Stevia is okay
Dukan says Aspartame is okay (which I advise strongly against – check out this info HERE about dangers of aspartame and splenda)
Vinegars, spices, herbs, garlic, onion, pickles (in moderation), lemon juice (on food – not as a beverage), mustard and salt (in moderation) sugar-free chewing gum and sugar-free natural ketchup in moderation are all okay during the first phase of the Dukan Diet.
The second period of the Dukan Diet is the cruise phase. During this second phase, you will continue to lose weight fast but not as rapidly as in the first phase. You will alternate your protein-only days with protein and vegetable days. One day you will eat the all protein attack phase plan. The next you will do the protein plus vegetables as described below, next, another day of protein and so on. On the protein and vegetable days, you can eat as much as you want of a long list of vegetables mostly green, leafy stuff.
These are just some of the vegetables you can eat during the cruise phase:
Kale
Brussels Sprouts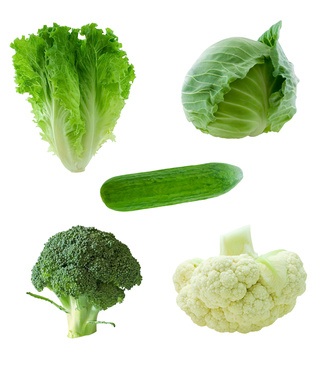 Broccoli
Cabbage
Spinach
Asparagus
Chard
Mustard Greens
Leeks


Eggplant – Aubergine
Salad Greens
Arugula
Lettuce
Bok Choy
Celery and many more
Tomatoes are okay
Avoid starch-based vegetables such as potatoes and sweet potatoes
While in this phase of the Dukan Diet, you can expect to lose a couple of pounds each week. You stay in this phase alternating protein and protein/vegetable days until you have reached your weight loss goal. If you have a lot of pounds to shed, stay in the first phase for an extended period before switching to the second phase of the diet. Then, just continue with the cruise phase until you reach your goal body weight.
The third phase of the Dukan Diet is the consolidation phase. It is this period that Dr. Dukan considers the "high-risk" time for weight gain for most dieters. For this reason, Dukan developed the following plan. It is at this point that you can start to introduce limited amounts of cheese, breads, fruit, pasta and other foods you love but only as instructed by Dr. Dukan.


You can enjoy lean protein and vegetables every day.
You can add in one serving of fruit per day. Avoid fruits that are very high in sugar such as grapes or bananas.
One serving of cheese daily is okay during this phase
Two slices of whole grain bread with low-fat butter are approved.
Dukan encourages having a splurge meal twice a week during this phase of the diet but notes a few things you must avoid. Dukan states that you must not have second servings of any dish. Avoid more than one splurge meal in the week. It is imperative that after your splurge meal, you start up the healthy eating immediately in the next meal. Each week during this phase, you should designate one protein-only day. This will allow you to maintain your weight loss. Dukan advises that you carry this out for five days for every pound of weight you have lost. Therefore, if you lose 20 pounds on the Dukan diet, plan on 100 days in consolidation phase of the Dukan Diet. You will not continue to shed pounds during this phase so if you didn't lose all of the weight you wanted– stay in the cruise phase alternating protein-only and protein-vegetable days before diving into this one.
Finally, the fourth section or stabilization phase of the Dukan Diet is your maintenance plan for life. At this stage, no food items are off limits. Don't forget though to pick one day each week that you eat only protein. Your all protein day is to balance out your food intake during the rest of the week. Like the protein-only phase during the attack phase, avoid fats and skin, avoid sauces and follow all of the same rules as the first phase of the diet plan. Pierre Dukan suggests making Thursdays your all-protein day but which day you choose is entirely up to you based on your schedule. This fourth phase of the Dukan Diet is a plan for life. You can eat the foods you love during the week, and do protein-only once each week.
On the Dukan Diet, it is advised that you do low impact exercise like walking for 25 minutes each day. Dukan also recommends taking 2 Tbsp oat bran or fiber equivalent daily for regularity. Hydration is also important and Dr. Dukan recommends drinking adequate water throughout the day for best results.
To get an easy source of lean protein, consider trying 100% bio-available natural liquid egg whites – the purest form of protein available. You can use these to make delicious all-protein drinks for meals and snacks. For a delicious whipped 'milk-shake', add a sugar-free sweetener for a Dukan approved dessert anytime of day! You can also use the liquid egg whites for cooked various egg dishes – allowing you to avoid wasting egg yolks and still maintaining a no fat, no cholesterol healthy diet in line with the Dukan Diet plan. To read more about the benefits of pasteurized safe liquid egg whites – click Lean Protein Info.


By combining this eating plan with about 25 minutes of exercise daily, you can keep the weight off and feel vibrant and healthy. If you fumble and gain some weight, you can start the plan again to get rid of the extra pounds. Have you tried the Dukan Diet? How much weight did you lose? Click to order the book The Dukan Diet
.
Source: Daily Mail UK
Check out the sidebar to the right for tons more Pierre Dukan Diet Info and Dukan Diet Recipes.