Dukan Diet Recipe Ideas
* Shed Pounds on
THE Most Successful Diet in France
* More Effective Than Even the Atkin's Diet and Healthier!
* Eat Delicious Food and Keep the Weight Off FOREVER!
* Lose Weight Fast the Celebrity Way Like Jennifer Lopez and Supermodel Gisele
* Get the Body You've Always Dreamed of With This Doctor Created, Doctor Tested Approach to FAST Long Term Weight Loss!
Dukan Diet Recipe Ideas


During the your diet, coming up with creative new Dukan Diet recipe ideas is half the battle and half the fun. Make sure you are incorporating all of the spices and herbs at your disposal to create original recipes so you don't feel like you are eating the same things all of the time. For loads of incredible recipe ideas, Pierre Dukan's new recipe book is now available in English, click The Dukan Diet Recipe Book
to purchase.
During the attack phase of the Dukan Diet, your food choices are pretty limited but maybe not as limited as you think. You can have sashimi – all different kinds of fish. You can have shellfish – lobster and crab and shrimp. You can have turkey, chicken, lean beef, even lean ham. With all of these bases and some creativity in your preparation, you can come up with some really great Dukan Diet Recipe Ideas. People online are sharing their recipes and you can share yours for a Dukan Diet recipe exchange.
Don't overlook vinegar and mustard  or lemon juice in your recipe ideas -in small quantities these are approved and can loads of flavor to your recipes. Make sure you get low-carb french style mustard, nothing with added sugars or other off-limit ingredients.
Don't forget to use salt VERY sparingly and stay away from it entirely if you can. It won't do you any favors during the Dukan Diet.
Here is a Dukan Diet Recipe Idea that you can use in every phase of the diet. This recipe was created by Dr. Dukan and his staff and utilizes flavorful spices and limited ingredients so it is easy to make and enjoyable to eat.

Try this recipe during attack phase of the diet:
Curried Shrimp with Basil
16 Prawns or Large Shrimp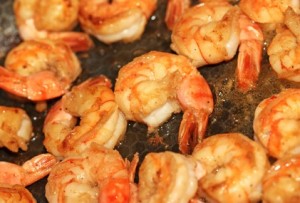 2 tsp Curry Powder
1 medium Onion – chopped very finely
10 fresh Basil Leaves – roughly chopped
Salt & Pepper
If they are not already peeled, peel the Shrimp.
Place shrimp in a large bowl and sprinkle the curry over them & stir to coat.
Marinate the shrimp for 15 minutes in the refrigerator
Begin to cook the onions in a non stick frying pan with the cover on for a few minutes. Add the shrimp and brown lightly over a high heat for 1 minute.
Add the Basil leaves and stir and cook for a further minute, season (lightly) with salt & pepper and serve immediately.
Please make sure you check out my other posts to find ideas on where to buy quark, oat bran and other Dukan Diet essentials. See my Dukan Diet recipe ideas pages filled with recipes and tips for making your Dukan Diet delicious.

The Dukan Diet Recipe book is now available in English in the UK and is a great place to start with Dukan Diet recipe ideas.