What Can You Eat on the Dukan Diet
* Shed Pounds on
THE Most Successful Diet in France
* More Effective Than Even the Atkin's Diet and Healthier!
* Eat Delicious Food and Keep the Weight Off FOREVER!
* Lose Weight Fast the Celebrity Way Like Jennifer Lopez and Supermodel Gisele
* Get the Body You've Always Dreamed of With This Doctor Created, Doctor Tested Approach to FAST Long Term Weight Loss!
What can you eat on the Dukan Diet?



Dr. Pierre Dukan does not think that you should be eating cardboard or not enjoying delicious food simply because you are dieting. He is French after all.
Below are a few more Dukan Diet Recipes. If you want a library of recipes for your diet, purchase the Dukan Diet Recipe book by clicking on the book image at the right.
Oat Bran Pancakes or Oat Bran Galettes – Dukan recommends having these in every phase – they are delicious, easy to make, hearty, healthy, and approved for all of the four phases.
1 egg white
2 Tbsp Fromage Frais or Quark
– this isn't super easy to find in the U.S. If you can't find it and don't wish to order it online, try mixing a non-fat yogurt with low-fat cream cheese or smooth cottage cheese.
1.5- 2 tsp Oat Bran
Mix the ingredients. Add more egg white or a touch of skim milk if mixture is too thick. Heat frying pan to medium. Spray non-fat cooking spray on the pan. Spoon mixture onto the pan like a pancake. Flip once to brown both sides evenly. Enjoy!
Make sure to limit your oat bran (and oat bran galette intake) to the amount allowed by the phase of the diet you are in.
Fish Tacos – serves 2
This recipe is not for the attack phase but can be eaten during the cruise, consolidation and stabilization phases.
4 Oat Bran Pancake "Taco Shells"
Use Oat Bran Pancake recipe above to make your oat bran taco shells – make them as thin as possible for the tacos
2 Fillets of White Fish – Either Dover Sole, Cod, Mahi Mahi, Seabass – your choice
1 Lemon
2 Garlic Cloves
Garlic Powder
Chili Pepper
Paprika
Salt
Pepper
2 small tomatoes
1 small onion
Small bunch of cilantro
1/2 c shredded cabbage
1/4 c non-fat greek yogurt or Quark
Finely chop onions cilantro and tomatoes and mix together and set aside in the refrigerator. Pat the fish dry with paper towels to remove excess moisture. Mix the quark or yogurt with desired amount of chili powder, paprika, garlic powder and pepper to taste. Set aside. Heat a frying pan to medium high. Spray with a fat-free oil spray or drizzle a bit of oil and then wipe the pan to remove excess oil. Sprinkle garlic powder, paprika, a small dash of salt and pepper, and a small dash of chili pepper powder on the fish. Place fish on the frying pan and brown each side. Add cabbage, onion, cilantro and tomato mixture and place the fish on the oat bran pancake. Add half of the yogurt or quark mixture. Eat like a taco – enjoy!
Garlic Lemon Chicken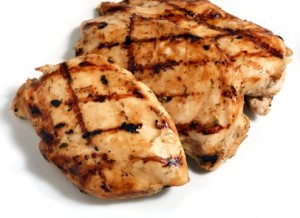 2 Boneless Skinless Chicken Breasts
4 Cloves Garlic
1 Lemon
Salt & Pepper
Butterfly the chicken breasts so they are thinner and can be well-seasoned with the garlic and lemon. Chop the garlic cloves and rub generously on the chicken. Sprinkle lightly with salt and pepper. Place in a dish or container and squeeze the juice of one lemon covering the chicken breast completely. Let marinate in the refrigerator for 15 minutes to 12 hours. Spray pan or grill with fat-free oil or rub a TINY amount of oil on chicken to avoid sticking. Place chicken on heated pan or heated grill. Flip once allowing grill marks or browning on one side before turning. Don't overcook as you will let the chicken rest covered for a couple of minutes before serving where it will continue to cook and retain its juices.
During the cruise phase, you can incorporate arugula or other vegetables into the meal.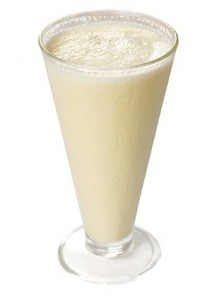 Decadent Vanilla Shake – serves 1
1 cup (8 oz) of Pure Liquid Egg Whites
1-2 packets Pure Stevia Vanilla Powder

(Alternately, you may use 1/2 tsp vanilla extract and 1/4-1/2 tsp stevia or other sugar substitute)
Put in a blender and add 1/2 cup ice if desired – whip until smooth and frothy. Makes a delicious no carb, no fat, no cholesterol dessert during the Dukan Diet
Pierre Dukan Balsamic Dressing
5 tablespoons Balsamic vinegar
1 tablespoon of mild mustard
1 tablespoon of water
1 teaspoon of olive or walnut oil.
8 basil leaves
1 garlic clove
Add all of the ingredients except oil to a food processor and pulse briefly to chop garlic and basil and blend ingredients – whisk the oil in to the other ingredients.
So, if you have wondered, what can I eat on the Dukan Diet – hopefully these recipes will give you a starting place. Please add recipes of your own in the comments – more to follow! Buy the Dukan Diet recipe book right here for more fantastic recipes straight from Pierre Dukan: The Dukan Diet Recipe Book
We hope this has helped you with ideas for what you can eat on the Dukan Diet.